Hampton Roads Alliance Announces Offshore Wind Supply Chain Development Initiative
To lead the effort, regional expert Matt Smith will join the Alliance as its first Director of Offshore Wind Business Development
---
PRESS CONTACT:
Jillian Goodwin,
Director of Marketing & Communications
Hampton Roads Alliance
757-646-2895
jgoodwin@757alliance.com
---
(NORFOLK – JULY 16, 2020) The Hampton Roads Alliance (the Alliance) is pleased to announce a new initiative to develop a comprehensive supply chain to serve the east coast offshore wind industry. This effort is made possible largely thanks to a Department of Housing & Community Development GO Virginia grant of $529,788 that will help fund the first two years of this effort. This initiative will position Hampton Roads as the premier destination for offshore wind companies to invest, while also creating new economic prospects for existing businesses, attracting new investments to the region, and sparking new permanent job creation.
"The Alliance is proud to be a key partner in the collective effort to bring offshore wind to the Hampton Roads region. We would like to sincerely thank Governor Ralph Northam and thse Virginia General Assembly for leading the charge to bring renewable energy to the Commonwealth of Virginia, and GO Virginia for awarding the Alliance a grant which will be used to kick off our supply chain development initiative," said Doug Smith, President & CEO of the Hampton Roads Alliance.
This initiative will entail efforts to both recruit offshore wind companies to establish operations in the region, while simultaneously identifying opportunities for existing Virginia businesses to become part of the supply chain. This effort will involve significant coordination and collaboration with local, regional and state partners, including the Virginia Division of Offshore Wind within the Department of Mines, Minerals, and Energy (DMME) and the Virginia Economic Development Partnership (VEDP).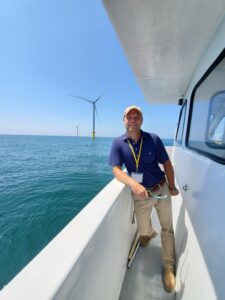 In support of this new initiative, the Alliance is pleased to announce the hiring of Matt Smith as the Director of Offshore Wind Business Development. In the spirit of collaboration, a hiring committee comprised of representatives from the Hampton Roads Alliance, Virginia DMME, Port of Virginia, Virginia Maritime Association and Portsmouth Economic Development conducted the search and selection of this new hire from a wide pool of candidates. The committee unanimously recommended Matt for the role and is excited to welcome him to the Alliance team.
Before joining the Alliance, Matt served as the Senior Regional Planner at the Hampton Roads Planning District Commission (HRPDC) and worked in the areas of strategic, environmental and comprehensive planning. Matt led efforts at the HRPDC on issues ranging from offshore wind to site development readiness. Matt came to the HRPDC from the City of Hampton's Community Development Department where he helped begin Hampton's resilience planning program.
Prior to his career in community development, Matt worked for a member of the U.S. House of Representatives and for a research and consulting firm. Matt, a native of Hampton Roads, earned a Master's Degree in Urban and Regional Planning from Virginia Commonwealth University and a B.A. in American History from Washington and Lee University.
"We are very excited to have Matt Smith join our team as our first Director for Offshore Wind Business Development," said Brian K. Skinner, Chief Banking Officer for TowneBank and Chair of Alliance Board of Directors. "Matt comes to the Alliance with a history of serving the 757 region, and we look forward to the experience and passion he will bring with him to this inaugural role."
"The Virginia Department of Mines Minerals and Energy is pleased to have the Alliance as an important partner in the State's burgeoning offshore wind industry," commented Jennifer Palestrant, Chief Deputy, DMME. "Matt's experience, along with his knowledge of the local business community and regional development opportunities, will serve this emerging industry well."
"Virginia is positioned to be a leader in the offshore wind energy industry, and we are excited to partner with the Hampton Roads Alliance, DHCD and DMME on these initiatives to expand Virginia's offshore wind supply chain," said Stephen Moret, VEDP President and CEO. "It is through collaboration among state, local and regional organizations that we can recruit new business, growing this industry and creating economic opportunity in the Hampton Roads region and throughout the Commonwealth."
"As offshore wind energy production and its supporting supply chain begin to take footing along the U.S. East Coast, the Hampton Roads Harbor and the existing maritime cluster is poised to be a key hub in this emerging industry," remarked John F. Reinhart, CEO and Executive Director, Virginia Port Authority. "The Port of Virginia is pleased to see the Alliance establish an offshore wind supply chain development program, as well as the addition of Matt Smith as the Director of Offshore Wind Business Development. The Port of Virginia and the Alliance are strategic economic development partners, and we look forward to working with Matt to grow the offshore wind industry here in Virginia."
"We are very happy to have Matt join the Alliance. His in-depth local knowledge, planning expertise and regional network will be invaluable in establishing our region as a major player in the East Coast offshore wind supply chain," said Will Fediw, Vice President of Industry & Government Affairs, Virginia Maritime Association.
"From economics to workforce to infrastructure and industry planning, offshore wind will be a major aspect of our region's future," commented Robert D. Moore, Director, Portsmouth Economic Development. "The City of Portsmouth is excited to collaborate with our local, regional and national partners to ensure that the 757 is the preferred East Coast hub for the industry. Matt's knowledge of the region and technical background will support those efforts."
To further this new initiative, the Alliance is also establishing a European-based offshore wind economic development office. Located in Frankfurt, Germany, the Hampton Roads Alliance Offshore Wind Office will be staffed by experts who will engage with European-based companies and promote the assets of the region.
"We as the European arm of the Hampton Roads Alliance are thrilled to represent this initiative. As one of the first pioneers to help European offshore wind companies navigate through the U.S. and Hampton Roads, the Alliance will start by opening an office in Frankfurt," said Andreas Paulicks, Director Europe, Hampton Roads Alliance Offshore Wind Office. "This decision is based on the fact that Europe and especially Germany are among the leading nations within the renewable energy industry and in particular offshore wind. The strong presence of renewable energy in Europe will bring great opportunities to support investments from Europe to Hampton Roads."
Hampton Roads is uniquely positioned to support the growing $100 billion East Coast offshore wind industry. The region boasts unmatched port infrastructure, America's largest and most skilled maritime workforce, no overhead bridge restrictions between key port facilities and the open ocean, and abundant waterfront land. Dominion Energy also recently completed installation of the first two turbines in Federal waters as part of its Coastal Virginia Offshore Wind project.
"Offshore Wind represents a once in a generation opportunity to bring an entirely new industry to the region," said ReInvent Hampton Roads CEO & President, Jim Spore.
For further information or to secure an interview with Alliance President & CEO, Doug Smith, please contact Jillian Goodwin, Director of Marketing & Communications at jgoodwin@757alliance.com.

The Hampton Roads Alliance is the leading regional economic development organization for Hampton Roads, VA. It is a nonprofit, public-private partnership representing 11 localities and over 70 private sector investors. With the support of its community and business partners, the Alliance serves as the region's single point of contact for regional economic development to assist domestic and international companies who are considering expansion or relocating to the Hampton Roads region. Its mission is to work collaboratively to attract, grow and retain higher-wage industries and talent to create a more resilient, inclusive and diverse region of choice.