Hampton Roads Alliance Releases Report on Estimated Economic Impact of Offshore Wind Industry
Mangum Economics Finds that Dominion Energy Project will Create 1,100 Jobs, With Potential for Thousands More as Industry Grows
---
PRESS CONTACT:
Jillian Goodwin,
Director of Marketing & Communications
Hampton Roads Alliance
jgoodwin@757alliance.com
---
(NORFOLK – SEPTEMBER 29, 2020) The Hampton Roads Alliance (the Alliance) is pleased to present the findings of an economic impact analysis, conducted by Mangum Economics, on the impact of both Dominion Energy's Coastal Virginia Offshore Wind (CVOW) project and the potential impact that a growing American offshore wind industry may have on the Hampton Roads region and the Commonwealth of Virginia.
Dominion Energy, a leader in the emerging U.S. offshore wind industry, recently completed installation of the first two turbines in federal waters as part of its CVOW project. The next phase of the project is a large-scale 2.6-gigawatt commercial operation, or enough to power approximately 660,000 homes. From 2020 through the end of 2026, construction of this project will produce an estimated 900 direct and indirect jobs in Virginia annually. After manufacturing and construction are completed, it is estimated that the continued operation of the CVOW project will create 1,100 direct and indirect jobs across Virginia. In addition to jobs in the engineering, wind technology, marine maintenance, and logistics industries, many jobs will also be created in the construction, real estate & home improvement, hospitality, and healthcare industries. The project is also projected to generate more than $209 million in economic activity, and nearly $6 million in local tax revenue for the Hampton Roads area.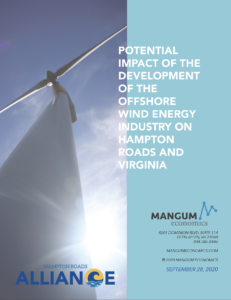 Dominion Energy's CVOW project positions Virginia as an early leader in the offshore wind industry, but is only part of the total development that is being planned along the East Coast. States from Massachusetts to North Carolina have announced plans to develop offshore wind along their coast lines and to purchase enough capacity to drive the need for a domestic supply chain. This, in turn, has the potential to spark the development of East Coast manufacturing supply chain hubs. Hampton Roads is uniquely positioned to support the growing $100 billion East Coast offshore wind industry. The region boasts unmatched port infrastructure, America's largest and most skilled maritime workforce, no overhead bridge restrictions between key port facilities and the open ocean, and abundant waterfront land.
Mangum Economics estimates 5,200 Virginia jobs will be supported by the time the East Coast offshore wind industry ramps up to the degree that Hampton Roads businesses are helping develop one gigawatt of new installed capacity annually. The majority of those jobs will be in Hampton Roads, and the total economic activity anticipated is an estimated $740 million.
The Alliance has emerged as a leader in the effort to position Hampton Roads as a supply chain hub for offshore wind. This effort is made possible largely thanks to a Department of Housing & Community Development GO Virginia grant of $529,788 that will help fund the first two years of this effort. This initiative will entail efforts to both recruit offshore wind companies to establish operations in the region, while simultaneously identifying opportunities for existing Virginia businesses to become part of the supply chain. This effort will involve significant coordination and collaboration with local, regional and state partners, including the Virginia Division of Offshore Wind within the Department of Mines, Minerals, and Energy and the Virginia Economic Development Partnership.
"Mangum Economics was honored to be selected to estimate the likely economic impact of offshore wind energy development on Hampton Roads and Virginia," said Fletcher Mangum, CEO & Founder. "In our 17 years of conducting such studies, no previous initiative has had the potential to have such a transformative and significant impact. Offshore wind energy is an established industry in Europe, but in its infancy here in the United States. For this report, we built a proprietary industry cost model using data from European and U.S. sources to estimate the impact of Dominion Energy's 2.6 GW CVOW project. Our estimates are informed by the experience of the offshore wind industry in the United Kingdom, currently the country with the most installed offshore wind capacity in the world. Our confidence in the robustness of our modeling is bolstered by the fact that our estimates closely parallel the recent findings of other researchers on comparable offshore wind projects."
"The offshore wind industry brings with it unparalleled potential to further diversify the economy of Hampton Roads," said Douglas L. Smith, Alliance President & CEO. "The economic impact showcased in this report is the reason why the Alliance is committed to helping our region build a supply chain and prepare sites across the region to house companies that will participate in the manufacturing and operation of wind turbines. Our maritime workforce and unique geographic assets make us well positioned to secure this industry, but only if we come together as a region and Commonwealth to present our compelling case to industry leaders."
To view and download a copy of the full report, CLICK HERE.
For additional information or to secure an interview with Alliance President & CEO, Douglas L. Smith, or Mangum Economics, please contact Jillian Goodwin, Director of Marketing & Communications at jgoodwin@757alliance.com.

The Hampton Roads Alliance is the leading regional economic development organization for Hampton Roads, VA. It is a nonprofit, public-private partnership representing 11 localities and over 70 private sector investors. With the support of its community and business partners, the Alliance serves as the region's single point of contact for regional economic development to assist domestic and international companies who are considering expansion or relocating to Hampton Roads. Its mission is to work collaboratively to attract, grow and retain higher-wage industries and talent to create a more resilient, inclusive and diverse region of choice.