Achieving more for Hampton Roads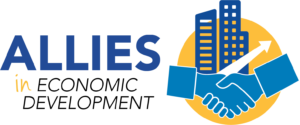 With our public and private partners, we can make Hampton Roads more competitive in economic development. The Alliance has revamped its strategy to market the region more effectively, address product deficits that impact our competitiveness, and position us as the leading community in critical industry sectors.
---
The goals and strategies of the five-year Allies in Economic Development campaign are:
Goal 1: Build a world-class regional economic development system.
Targeted Business Development
Engaged Next-Generation Marketing
Integrated Regional Intelligence
Goal 2: Invest in our sites & our people.
Creative Real Estate Solutions
Enhanced Talent Recruitment
Goal 3: Strengthen our region's resiliency.
Leading Energy Portfolio
Emphasis on Diversity & Inclusion
---
This new strategic plan positions the Hampton Roads region with a competitive advantage to attract jobs and investment in our target industries. Those industries are:

Business & Shared Services
Information Technology
Advanced Manufacturing
Distribution & Logistics
Food & Beverage Processing
Offshore Wind
---
The Alliance's new five-year plan is expected to bring 7,000 jobs to the region with an average hourly wage of $48.93 ( or with an average salary exceeding $101,000 a year). In turn, these jobs will generate an additional 8,000+ jobs with average annual salaries of more than $75,000. Once the direct and indirect jobs are in place, consumer expenditures in the community are expected to be $728.5 million, and annual bank deposits will be nearly $114 million.
We cannot do this alone. Our public-private partnership funding model brings together the public funding from our local government entities and from businesses and institutions large and small throughout the region that believe a robust and resilient economy will benefit the region and their organization's bottom line. Together, let's grow Hampton Roads, learn more about investing in the Alliance.
Allies in Economic Development Case for Investment