Alliance Hires New Operations Director & Business Intelligence Director
HAMPTON ROADS, VIRGINIA – (JANUARY 19, 2023) The Hampton Roads Alliance continues to evolve its mission and team to best leverage the incredible assets of this region. Today, the Alliance is pleased to announce the hiring of two outstanding new team members: Olivia O'Bry as Director of Operations and Ethan Crouson as Director of Business Intelligence.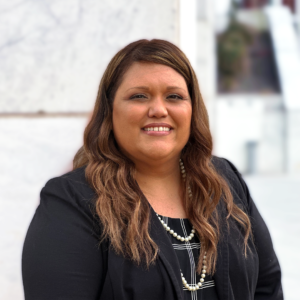 Olivia O'Bry comes to the Alliance with more than two decades of experience working in economic development. A native of San Diego, California, for the past 22 years she has served in a variety of roles at Virginia Beach Economic Development, most recently as Executive Assistant. In 2015 the Virginia Beach Rotary Club named Olivia "City Employee of the Year" for her incredible work ethic and ability to serve the community. In her new role as Operations Director, Olivia will be responsible for assisting President & CEO Douglas L. Smith and overseeing the office management for both the Alliance and Offshore Wind Landing.
When asked about joining the Hampton Roads Alliance, Olivia stated "The Navy initially brought my family to Hampton Roads, but it is the people and the community that convinced us to stay. Throughout my time at Virginia Beach I've been honored to work in economic development where we can bring new opportunity and prosperity to the community; I'm thrilled to have the chance to expand on that work and impact the entire region."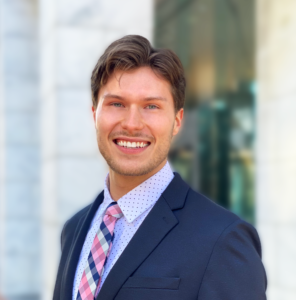 Ethan Crouson joins the Hampton Roads Alliance after completing his Bachelor's and Master's degrees at Old Dominion University (ODU). A native of Chesapeake, during Ethan's time at ODU he served as a graduate assistant for the Dragas Center for Economic Analysis and Policy; there he worked under the guidance of Dr. Robert McNab and assisted in writing the acclaimed "State of the Region" report. Prior to joining the Alliance, Ethan spent two years as an Economist for the Army Corps of Engineers. As Business Intelligence Director, Ethan will be responsible for providing data and analysis about the Hampton Roads business environment to prospective and existing companies as well as Alliance investors.
On his new role at the Alliance, Ethan remarked "I am thrilled to take on a role that will allow me to utilize the economic analysis skills I learned at Old Dominion University and give back to a community I love. The Hampton Roads Alliance is a vital organization to securing the region's economic future and I'm confident that I can make the organization's business intelligence department even better."
Alliance President & CEO Douglas L. Smith added "We could not be more thrilled to welcome Olivia and Ethan to our growing team. Olivia is among the most experienced administrative professionals in the economic development business anywhere and brings with her an outstanding reputation and tremendous contacts. Ethan is a talented economist and researcher and an example of the importance of keeping the region's impressive graduates within the community. We look forward to seeing how he can expand the Alliance's reach even further."
Please join us in welcoming both Olivia and Ethan to the Hampton Roads Alliance. Questions can be directed to Jillian Goodwin, Director of Marketing and Communications, at jgoodwin@hamptonroadsalliance.com.