Investor Spotlight: Old Dominion University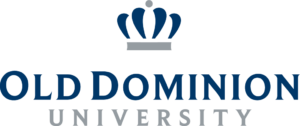 ---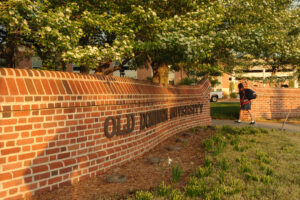 Old Dominion University (ODU) is a dynamic, entrepreneurial-minded public doctoral research university in Norfolk, Virginia, serving more than 24,000 students in the Hampton Roads region. Originally established as the Norfolk Division of the College of William & Mary, it separated in 1962 and officially became Old Dominion University in 1969.The University contributes $2.6 billion annually to Virginia's economy and has been recognized with several accolades including: "#1 Best for Vets in VA" by The Military Times and "Best Online Bachelor's Program" by the U.S. News & World Report. The University has also invested $300 million in campus building projects since 2016. ODU's main campus is located on 251 acres along the Elizabeth River in Norfolk, Virginia, approximately five miles from Downtown Norfolk. The University is also home to over 700 international students from 89 different countries.
---
ODU's Strome College of Business has played a significant role in educating and retaining talent in the Hampton Roads region. The College currently serves more than 3500 undergraduate and graduate students through their on-campus and online programs. The Dean of the Strome College of Business, Jeff Tanner, is committed to creating a more inclusive and well-equipped workforce. Tanner is a former marketing professional turned professor, he began his professor tenure at Baylor teaching marketing courses. During this time, he also founded the Baylor Business Collaboratory. In 2015, Tanner joined the Monarch community as Dean of the Strome College of Business. In his own words, he is responsible for "ensuring that our programs accelerate our students' success, our outreach accelerates our partners' success, and that we drive economic development in the communities we serve."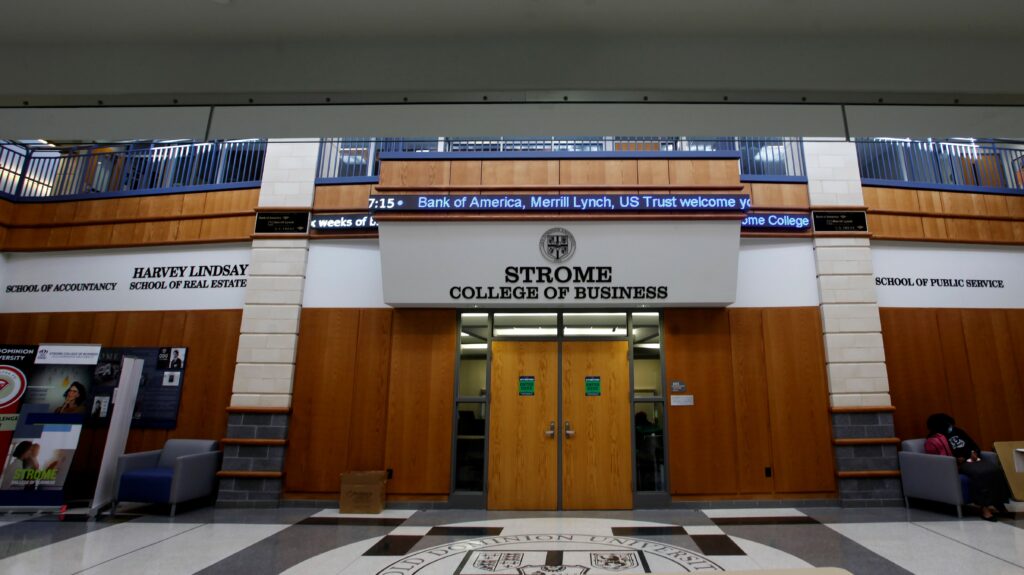 When asked about recent successes that ODU and Strome College of Business have achieved, Tanner notes several recent accomplishments including:
Receiving over $3 million in cybersecurity funding and developing a program that has gone from 0 to over 800 majors in three years
Being awarded over 1M in funding to support programming for transitional entrepreneurship in 2020 alone — funding that has been used to co-sponsor the 757 Recovery & Resilience Action Framework and launch a Supply Chain Analytics Lab to study supply chain issues with founding partners Givens and STIHL.
An online MBA that jumped in rankings to 65 (from 110) and a tremendous growth in overall enrollment in graduate programs (>10% last year alone)
Revamping the Master's in Economics to focus on data science and analytics
Revamped its Master's in Accounting and creating a new government accounting program
Funding 15 new Master's scholarships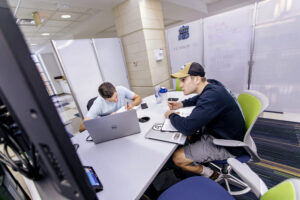 ---
Tanner also shared how being in Hampton Roads gives Strome the opportunity to lead in areas like Supply Chain and Maritime, Cybersecurity, Commercial Real Estate, and Healthcare Management. He notes these are fields where their students can compete globally, but are in high demand regionally, and the ODU faculty can collaborate with local businesses to provide unique and promising opportunities for students to grow their skillsets and expertise.
Additionally, local business leaders make the 757 a desirable place by creating a collaborative and supportive environment. The business community is eager to help ODU to grow and succeed, because their graduates build the regional labor force and enhance the pipeline of qualified workers. More importantly, however, local businesses recognize the value ODU and Strome College of Business can bring by supporting emerging and growing businesses, collaboratively creating innovative solutions to real problems, and extending their resources in ways that contribute to their competitive advantages.
---
Tanner believes the biggest growth opportunity for the Hampton Roads region is the existing business base and ability to build out the supply chain for those businesses. "There are so many sectors – offshore wind, healthcare, supply chain, information technology, defense contracting – that the region already has a strong foundation that to say one stands out is to ignore the fact that the biggest growth opportunity is to fully leverage the workforce, strong access to capital, and the ability to develop supply chains that reach across America."
As to why Strome College of Business chooses to be a part of the Alliance, Dean Tanner shared two reasons. The first is that when he visits Strome College of Business alumni around the country, he often hears "I wanted to stay in Hampton Roads, but I couldn't find a job." The second reason is that local leaders have prevailed upon Dean Tanner the need to end the brain drain. Tanner believes both of these issues are a function of local opportunity and being an active investor in the Alliance means contributing to the creation of jobs designed to keep the region's talent here, which means a healthy, diverse economy that can improve the wellbeing of all.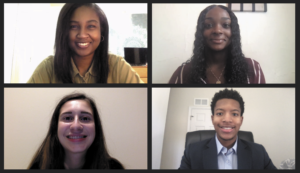 One unique feature of Strome's investment with the Alliance is that it serves more than just the University and the Alliance; it also provides job opportunities for current ODU students. Through its partnership, the Alliance and Strome are able to offer four students per year paid internships to work with the Alliance's Marketing & Communications and Business Intelligence departments. These students are able to gain hands-on experience in a variety of projects and initiatives and are a vital asset to the Alliance team. Additionally, last summer, another 10 Strome students served as interns for the 757 Recovery & Resilience Action Framework, providing support to the ten industry-focused committees responsible for helping craft the Framework's 30 implementation programs.
To learn more about Old Dominion University and Strome College of Business, please visit www.odu.edu/business.
---