Alliance at Work: Jan-March 2020
The Alliance hosted a total of four prospect visits for companies looking to relocate to Hampton Roads in January, February, and March. The Alliance is continuing to work diligently with these companies to secure these projects.
January 2020 Activities
In January 2020 the Alliance contracted, Camoin 310 Ltd., a lead generation firm to identify companies within its targeted industries that are looking to expand or relocate within the next three years. During the month of January, they scheduled a conference call with "Project Machete," an aircraft manufacturing company.  They also scheduled a face-to-face meeting in Baltimore with "Project Heat Soak" described below.
In January, Amy Parkhurst, Senior Vice President of Business Development, traveled to Baltimore to meet with "Heat Soak," a manufacturer of thermoformed plastic products. Parkhurst was joined by Charlie Bauman of Virginia Beach. A meeting was held with the company's decision-makers followed by a facility tour. Heat Soak is looking to relocate due to the high cost of operating a business in Maryland coupled with dissatisfaction with the local workforce.
Belkins is a business-to-business lead generation agency that is new to the economic development industry. The Alliance is trying Belkins on a month-to-month basis to generate leads within its targeted industries. During the month of January, Belkins arranged three conference calls with corporate decision-makers interested in exploring the Hampton Roads region for potential business expansions.
On January 30th, 2020 the Hampton Roads Economic Development Alliance hosted its 2020 Annual Meeting to celebrate the success of the 757 regions in 2019 and to look forward to the new year. The annual meeting included a panel discussion featuring Barry Duval, President, and CEO of the Virginia Chamber of Commerce and John O. "Dubby" Wynne, Chairman of Reinvent Hampton Roads.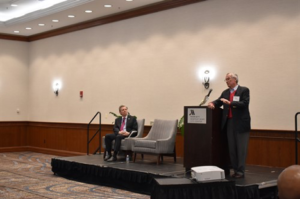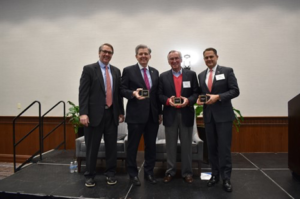 February 2020 Activities
On February 5, The Virginia Israeli Advisory Board visited the Hampton Roads region. The Alliance, in conjunction with Old Dominion University, hosted a delegation of 17 Israeli defense-related businesses for a day-long event to learn about business opportunities in the region. The business sessions were followed by a networking reception at the Half Moone Cruise and Celebration Center in Norfolk, attended by more than 60 Alliance private and public investors, including Mayor Kenny Alexander of Norfolk and Donnie Tuck of Hampton. A keynote speech was given by Retired Admiral Craig Quigley of the Hampton Roads Military and Federal Facilities Alliance.
In addition, the Alliance Staff participated in the following B2B events/activities in the region:
Amy Jordan participated in a Defense Entrepreneurs Forum at VersAbility in Hampton which provided an overview of its mission, services provided, and opportunities to work with defense-related businesses. Carrie Rhoades from NASA's Langley Research Center also explained their innovative partnerships and how to do business with NASA.
Amy Jordan participated in a workshop at Virginia Tech, Tech Center Campus with other economic development and business professionals. The session explored the incorporation of lean-agile leadership and design thinking in business and was led by Jon Macaskill, Navy SEAL; John Davis, professor at Carnegie Mellon; and John Hawley, Navy Nuclear Trained Lieutenant.
Amy Jordan and Alisa Crider participated in The Virginia Peninsula Chamber's series Developing the Talent Pipeline for the Next Generation. Alisa presented to the group on 757 regional branding strategies for Hampton Roads.
Amy Jordan participated in the monthly Peninsula Chamber's Military Affairs Council (MAC) which is comprised of the Installation Commanders and Command E-9's, the Senior Commander Army Element (MG), selected business leaders and senior representatives from federal, state and local organizations. This group meets to discuss potential impacts on the defense industry, the Virginia Peninsula's businesses, and the surrounding communities and strives to attract other public-private ventures with the military and provide continuity between senior military personnel and Peninsula business leadership.