Investor Round Up – Summer 2020
In addition to its member localities, the Alliance is proud to represent more than 70 private investors in Hampton Roads. With their support, the Alliance is equipped with the resources and expertise it needs to be the leading economic development organization in the region. We appreciate their continued commitment and efforts to grow the local economy. Even with the new challenges brought on by the COVID-19 pandemic, our investors are growing and adopting new strategies for success and new ways to serve Hampton Roads residents and businesses alike. We are excited to share a few recent highlights from the last few months below!
---
The Sentara Healthcare Brock Cancer Center is scheduled to open this month in Norfolk with little impact from COVID-19. The new $94M project is a 253,000 sq-ft building on the Sentara Leigh Hospital campus and features a healing garden around its perimeter. The center will employ 375 medical professionals and support staff. Construction on this new center began more than two years ago and stemmed from the idea that when cancer care is streamlined in one location, patients have better experiences and perhaps better outcomes. In Hampton Roads alone, about 10,000 people are diagnosed with cancer each year and it is the leading cause of death in the state. Howard Kern, Sentara President & CEO and Vice-Chair of the Alliance's Board of Directors says the center strives not only to treat patients but also to prevent deadly cases. Sentara is committed to doing so at the new center though education programs and screening to catch cancer before it reaches advanced stages.
---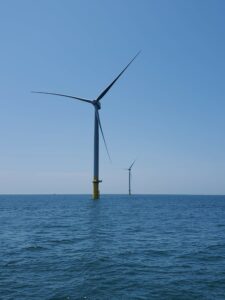 The first Dominion Energy turbine foundation for their offshore wind project has been completed here in Hampton Roads. Project Coastal Virginia Offshore Wind (CVOW) is one of many developments towards their dedication to a clean environment. The turbine will operate 27 miles off the coast of Virginia Beach and will include more than 70 turbines.
---
In May, Riverside Health System was one of many other groups to buy a stake in the country's biggest maker of surgical masks, Ameritech Boost. The multi-million-dollar deal helped boost PPE production during the pandemic while also securing a source of masks and other protective gear for Riverside Health for up to six years through a long-term purchase agreement with Texas-based Prestige Ameritech.
---
On June 2, 2020, Bank of America announced it would donate $1 billion over a four-year commitment of additional support to help local communities address racial inequality accelerated by a global pandemic. The programs will help people and communities of color have felt a greater impact from COVID-19. Areas of focus include health, jobs/training/reskilling/upskilling, support to small businesses, and housing.
---
As the Port of Virginia continues expanding, one of the largest areas of growth has been the refrigerated storage industry. Warehouse and logistic firms need more space for imported and exported goods. Hence, companies like Preferred Freezer Services, Americold Logistics, Port of Virginia Cold-Temperature Pilot program, InterChange Cold Storage, and Shenandoah Growers have significant expansions. One of these expansions will include a $700 million project from Port of Virginia cold-temperature pilot. According to a statement given by the CEO and Executive Director, John F. Reinhart, the company will have nearly 900 refrigerated cargo spaces, also known as reefer, at each terminal, a 66% increase in total reefer capacity.
---
Old Dominion University's Strome College of Business has launched the Strome Open4Business program as part of its efforts in economic recovery. Local companies and nonprofits can now sign up to take advantage of faculty-led student projects in digital marketing, selling to the government, exporting and finance, and many more. The new program will also prepare students to enter into the post-COVID workforce.
---
Damuth Trane is helping companies prepare with the reopening of buildings by providing Indoor Air Quality Assessments to avoid any HVAC start-up errors. The IAQ Assessments give companies better insight into their building's overall air quality and how they can make improvements. Damuth Trane is also offering Energy Check-Ups to pinpoint areas of inefficiency and discover opportunities to improve.
---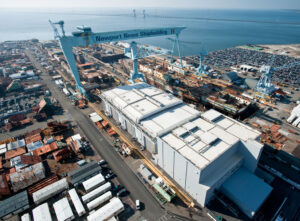 Newport News Shipbuilding is deemed a critical business during the pandemic. The shipyard has stressed that they are recruiting new employees, even if they have never worked in the maritime industry in the past. Newport News Shipbuilding hires and trains candidates with no experience, including those recently out of school. Click this link for a list of current positions at the shipyard.
---
Back in April, Breeden Co. began construction on a luxury five-story apartment complex on the waterfront near downtown Norfolk. The company faced multiple challenges throughout this process, including City Hall being physically closed to the public, which prevented access to proper permits. While none of the project's funding came from the government's COVID-19 stimulus program, banks were overwhelmed with thousands of applications for coronavirus small business loans, causing their need for construction loans to be delayed. However, Breeden Co. was able to overcome these obstacles by getting funds wired, permits were accessed and emailed, then printed and posted the notices on-site themselves. The complex is expected to include studios and units with up to three bedrooms, a pool, fitness room, and technology for renters to work from home.
---
On June 30th, the Federal Aviation Administration announced that Norfolk International Airport and Newport News/Williamsburg International Airport would be among the airports to receive grants worth $793.4 million. Norfolk Airport will be given nearly $10.6 million to buy land for aircraft approaches and to rehabilitate its taxiway. Newport News Airport will receive $5 million to build a taxiway and reconstruct its lighting. Usually, the FAA AIP funding covers 90% of an eligible project's cost, and then the airport pays for the remainder with state funding, but this time, the FAA is covering full costs.
---
On June 23rd, TowneBank and CHKD closed on the former Norfolk Southern tower that sits in the downtown Norfolk skyline. Both companies will share the space with nearly 900 people eventually working in the tower. Norfolk Mayor, Kenneth Alexander, said in a news release, "TowneBank and CHKD are both respected corporate citizens and assets to our community," "Their significant investment reinforces Norfolk's downtown as the urban employment hub of the region." Norfolk Southern announced in 2018 that their headquarters would be moving to Atlanta, they will continue to occupy several floors of the building until the end of 2021.
---