Around the Region Fall 2020
Unlike many metro areas, Hampton Roads' population nucleus is not confined to one central location. Its connectivity and advanced infrastructure are spread among numerous cities and counties, each with its own unique assets, vibrant quality of life and thriving business communities.  The Alliance is proud to represent 11 localities in Hampton Roads and appreciates the dedication and hard work of their economic development staff. Check out a few highlights below!
---
Virginia
In September, Governor Northam announced that that Rebuild VA, the $70 million economic recovery fund that launched in August is expanding its eligibility criteria to allow more small businesses to apply. Small businesses and nonprofits whose normal operations were impacted by COVID-19 and received CARES Act money can now receive grants up to $10,000. Businesses that have received federal funds must certify that they will only use the Rebuild VA grant for recurring expenses and that the grant will not be used to cover the same expenses as the other CARES Act funds. Additionally, businesses "must be in good standing, have annual gross revenues of no more than $1.5 million, and have no more than 25 employees" to be eligible for the grant funding. Read the full press release here. To submit an application, please visit governor.virginia.gov/RebuildVA.
At the 2020 Offshore WINDPOWER Virtual Summit, Governor Ralph Northam, announced the formation of Virginia's first offshore and onshore wind workforce training collaborative. Under this initiative, New College Institute, Centura College, Mid Atlantic Maritime Academy have joined forces to create the Mid-Atlantic Wind Training Alliance. The partnership will offer courses certified by the Global Wind Organization and trainings from the National Center for Construction, Education, and Research to wind technicians in Virginia. This new program will provide industry required certifications that are critical to the operations and long-term maintenance of wind projects, and it is the first major step towards a comprehensive workforce development effort to support renewable energy in Virginia. This announcement demonstrates the promising opportunity for Virginia to become a major player in the offshore wind industry and further supports the commitment the Hampton Roads Alliance has made to developing an offshore wind supply chain! Learn more here
---
Hampton Roads
RVA-757 has a new CEO, John Martin, who also is the head of a market research firm SIR. John Martin plans to utilize RVA-757 to aid economic developers in maneuvering the new trends attracting companies due to the COVID-19 pandemic. Ultimately RVA-757 will push for collaboration between the Richmond and Hampton Roads regions to ensure economic success and sustainability through infrastructure, innovation, and megasite development. Read more here
October 29th was a joyful day for Hampton Roads Bridge-Tunnel (HRBT) commuters as this Hampton held a groundbreaking ceremony to mark the start of the $3.8 million HRBT Expansion Project. The expansion will bring 4 extra lanes both ways and two tunnel lanes to the bridge-tunnel to ease traffic congestion. This is the largest Virginia project to date and is planned to be completed by November 2025. Learn more here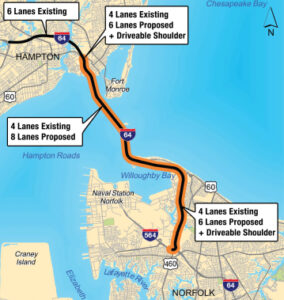 ---
Chesapeake
Plasser American announces plans to invest $52.6 million for an expansion in the City of Chesapeake Government, which will create 98 new jobs! This expansion will focus on building new offices, factory, and renovating Plasser's current spaces for increased production capacity. "Plasser American continues to be a major contributor to Hampton Roads' economy, and this major investment reaffirms the company's commitment to the City of Chesapeake," said Secretary of Commerce and Trade Brian Ball. Full story available here.
Chesapeake's Camelot Elementary is one of 367 school to be named as a 2020 National Blue Ribbon School for minimizing the student achievement gaps. The National Blue Ribbon Schools Program recognizes outstanding schools, affirming the hard work of students, educators, families, and communities in creating safe and welcoming schools where students master challenging and engaging content. Camelot is also one of only 7 school within Virginia to be awarded the Blue Ribbon! Check out this Facebook video to learn more. Congratulations Camelot!
Chesapeake Economic Development Authority is continuing to offer grants to small businesses with 50 or fewer employees. Businesses are eligible for up to $10,000 in relief, even those who have received funding from the Paycheck Protection Program and Economic Injury Disaster Loan (EIDL). Applications details available at https://chesapeakeva.biz/recovery-grant/
---
Franklin
Franklin Southampton Economic Development is proud to announce a Small Business Recovery Grant program thanks to funding from the Obici Healthcare Foundation. The Small Business Recovery Grant program is a one-time financial assistance program for eligible, for-profit small businesses (fewer than 50 full-time employees as of March 24, 2020) to reimburse the costs of business interruption directly or indirectly related to Governor Northam's Executive Order 53. Grants are available for an amount up to $3,000 per business. For more information click here
 Amid the COVID-19 pandemic, locally owned The Hubs Vine has introduced a roadside marketplace to Franklin. This marketplace is all sourced with products from all around Virginia. Not only does the marketplace have delicious foods but comfortable seating, games, and televisions for a relaxed and fun experience. You can visit The Hubs Vine at in a former Farm Fresh grocery space just off U.S. 58 on Armory Drive in Franklin. Read more here.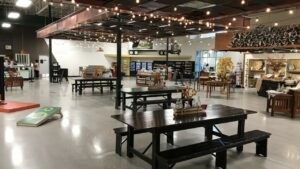 ---
Hampton
Hampton and Newport News have been awarded $1.5 million in CARES Act Recovery Assistance grant which will go towards funding small businesses. This act also provided $13.9 million in grants throughout Virginia towards assisting small businesses. This Act was put into place to lessen the negative economic effect that COVID-19 has taken on small businesses. Learn more.
Huntington Ingalls Industries, Inc. (HII) will create more than 250 new jobs in the region by establishing an Unmanned Systems Center of Excellence in Hampton, VA. HII is the nation's largest military shipbuilding company and currently employs more than 20,000 in the 757. Click here to learn more
---
Isle of Wight
In September Smithfield Foods donated $100,000 to support programs for homeless veterans and their families around Virginia. Smithfield has also donated upwards of $210,000 over the past four years for states programs for homeless vets and their families. To learn more click here.
---
Newport News
Newport News has been participating in a Health Equity Pilot Program lead by the Virginia Department of Emergency Management (VDEM) and the Health Equity Working Group. This program provided Newport News with personal protective equipment (PPE) and public health information. The city was provided 20,000 cloth masks and bottles of hand sanitizer, they also implement drive-thru testing at Sentara Healthcare. Newport News was chosen through the Health Equity Programs data which identifies communities where COVID-19 would affect the most by looking at number of chronic diseases, household income, age, disability status among other factors. Read more here.
Due to COVID-19 and apart of the CARES act there is now a CARES Workforce Assistance Program (CWAP). CWAP will help place applicants into job with a minimum wage of $13.50/hour in fields such as: healthcare, information technology, shipbuilding and repair, constructions/trades, and truck driving. Applicants will be trained virtually and in-person and are expected to graduate by December 30th. To apply, click here.
ITA International has been awarded a 5-year $50 million contract through Small Business Innovation Research (SBIR) Phase 3 from the U.S. General Services Administration. ITA will aid the U.S. Air Force by consolidating and modernizing electromagnetic spectrum operations at Eglin Air Force Base in Florida. Among there many tasks they will provide tools within their in-house Data Analytics Center, ITADAC, in joint with ITA Global Security and ARENA (Ask, Review, Evaluate, Navigate, Analyze) and their various other programs. To learn more click here.
---
Norfolk
Norfolk Department of Economic Development received $2 million in CARES Act funds and transferred these funds into a CORE grant for local businesses. This was aimed to alleviate the economic affect that COVID-19 has left. Round two of applications for grants went live September 2 – September 13. Overall there has been 93 different local businesses that have received grants to help keep them afloat during this pandemic. Read more here
Norfolk City Manager, Dr. Chip Filer, has created the Norfolk Nutritional Equity Fund. This fund is aimed to bring more grocery stores to areas in Norfolk labeled as "food desert" while also providing education about how to get into the grocery industry. It will also provide grants to small grocers for equipment or renovations needed for them to sell fresh produce and grants for mobile markets, farm stands or any service that helps deliver groceries to elderly or mobility-challenged citizens. "The goal of this fund is to bring money and capital to address the food insecurity that exists across our city.  This effort is not just about opening grocery stores in food deserts but is a holistic effort to combat nutritional and health disparities through creative solutions," said Dr. Chip Filer, Norfolk City Manager. Read more here.
The Round 3 of our CORE Grants application period is open from October 7, 2020, until October 18, 2020. Grant rounds will continue until designated CARES Act funds are depleted.
Here are the results from Round 2. Applications were accepted from September 2, 2020 – September 13, 2020.
Lastly, here is our featured story link on our Department being recognized with three international awards.
---
Portsmouth
The forthcoming Rivers Casino Portsmouth development partner, Rush Street Gaming, plans to pursue local and private-sectors minority owners. Resident of Portsmouth will have priority under its "Portsmouth First" policy, ensuring that the hiring, purchasing, and owning of the Casino will be local.  They will solicit minority participation to 5% or $5 million whichever is greater. To learn more click here
The Environmental Protection Agency (EPA) , The Department of Environmental Quality (DEQ), the City of Portsmouth and the Portsmouth Ports & Industrial Commission (PPIC) have made progress with their remediation project at the Atlantic Wood Industries (AWI) Superfund Site. This project has been focused on cleaning the Superfund Site and has been in progress for 10 years. Once the industrial site is cleaned it will be utilized for redevelopment. Read more here.
---
Suffolk
Alliance RED Team member, Kevin Hughes has been appointed as acting Deputy City Manager of the City of Suffolk Virginia, effective November 12, 2020! Kevin first began working for Suffolk in 2005 as a Senior Business Development Manager, and has been Director of Economic Development since 2010. Since he's been at Suffolk Economic Development, he has fostered growth for the city by implementing over 500 projects leading to more than $1 billion in capital investment and creating over 7,000 new jobs. In addition, Gregory Byrd, who has been Assistant Director of Economic Development since 2007, has been appointed as acting Director of Economic Development, also effective Nov. 12. Greg previously served as deputy executive director for Empowerment 2010 Inc, a non-profit managing workforce, business and community development programs and funding for the Norfolk/Portsmouth Empowerment Zone; and as Business Development Manager for the Alliance in its earliest years as the leading regional economic development organization for Hampton Roads.Please join the Alliance in congratulating both Kevin and Greg on their recent appointments!
An update on Amazon's new 3.8 million square foot Robotic Fulfillment center in Northgate Industrial park. Amazon is also building a 650,000 square-foot processing center in Cheasapake which will bring in 1,500 jobs all together. Suffolk's 4.5 story fullfillment center will employ more than 1,000 workers while Chesapeake's processing center will employ 500. Check out the photo to see the progress in Suffolk. Learn more here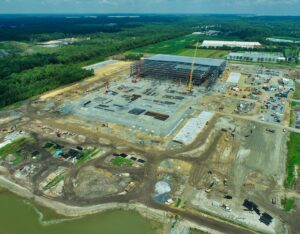 ---
Virginia Beach
Virginia Beach Wins 2020 Government Experience Award for Traffic Data-Sharing Partnership for their partnership with Waze. This partnership created a program that allowed the city to crowdsource, analyze and share high-quality data for and from their citizens. This program is the Waze Connected Citizens Program, it allows the city to see in real time, anonymously incidents and traffic from local drivers. This data is also shared with local residents, first responders, regional authorities, and anyone who utilizes the app. Click here to learn more.
Premium-PPE is investing $5.25 million for additional equipment and labor for its expansion of their operation in Virginia Beach. This will increase the companies manufacturing capacity and create 180 new manufacturing jobs. This facility is projected to manufacture and ship over 20 million disposable masks each month! The City of Virginia Beach Economic Development Authority will also provide a $108,000 grant as apart of Economic Development Investment Program to Premum-PPE. To learn more click here
Branscome Inc. has announced their new corporate location in Virginia Beach at the Convergence Office Park. Branscome is one of the largest providers of civil infrastructure services in the Mid-Atlantic and will support business development , preconstruction, estimating, project management, engineering, and materials sales for the successful delivery of major infrastructure and paving projects for private, federal, state, and municipal clients throughout Southside Hampton Roads. To learn more click here
---